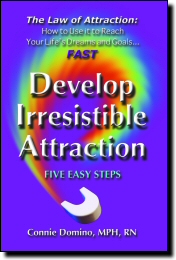 Paperback | 198 pages
ISBN: 978-0-9786158-1-9
The Law of Attraction
Develop Irresistible Attraction
Connie Domino
Secure Transaction
or call toll free 1(800)247-6553

Price: $14.95
Shipping US: $4.50 + $1.00/item
Shipping Foreign: $12.00/item
Summary
The Secret Behind The Secret, step by step "How to" use the Law of Attraction to meet your life goals and dreams... fast!
Stop struggling to achieve success & happiness ... learn how to ATTRACT people, things & opportunities you want in your life! In this book, learn the secrets to becoming Irresistibly Attractive. We're always attracting "stuff" into our lives, so why not use the Law of Attraction to attract the "stuff" we really want in all areas of our life?
LEARN how in five simple steps to achieve in as little as two weeks such dreams as ...
More Money
New Romantic Relationships
Improved Family Relationships
New Jobs
Job Promotions
Increased Sales
More Customers
Make the Life you Dream about a Reality!
Sometimes our thinking, feelings and strategies only need fine tuning a fraction of an inch for our grandest goals and dreams to come true. Through the familiar structure of goal setting, Connie Domino teaches you the all important "How" to word your goals. She'll show you how to fine tune your thinking, feelings and self-talk for very quick results.