The Secret Behind The Secret
step by step "How to" use the Law of Attraction
to meet your life goals and dreams... fast!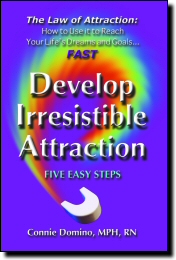 Same Great Book,
Brand New Cover
Check out my Success Stories and Case Studies. Are you ready for Law of Attraction (LOA) Instruction that is Clear, Makes Sense and actually "Works?" I have read many testimonials from other Law of Attraction writers and practitioners and mine are the only ones I have found that consistently say, "I read your book, tried your product, and/or attended your workshop, and here's exactly what I manifested ... fast."
New CD Set of LOA Workshop Now Available - 3 hours of life-changing information. Also, comes with book and workbook. Click Here.
Stop struggling to achieve success & happiness ... learn how to ATTRACT people, things & opportunities you want in your life! In this book, learn the secrets to becoming Irresistibly Attractive. We're always attracting "stuff" into our lives, so why not use the Law of Attraction to attract the "stuff" we really want in all areas of our life?
LEARN how in five simple steps to achieve in as little as two weeks such dreams as ...
More Money
New Romantic Relationships
Improved Family Relationships
New Jobs
Job Promotions
Increased Sales
More Customers
Make the Life you
Dream about a Reality!
Sometimes our thinking, feelings and strategies only need fine tuning a fraction of an inch for our grandest goals and dreams to come true. Through the familiar structure of goal setting, Connie Domino teaches you the all important "How" to word your goals. She'll show you how to fine tune your thinking, feelings and self-talk for very quick results.